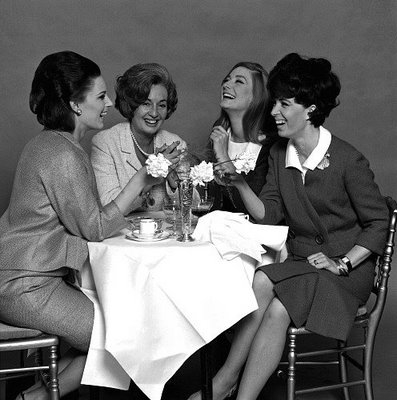 Every Third Monday of every month Lunch Bunch meets regularly to get together and share in friendship and joys outside of Women's Club Wednesdays. The location changes but the time and day are generally the same around 11:30 am.
This is also a great opportunity to get to the know the women of women's club better whether you are a member or not.
Ladies and Women getting together for lunches or outings is a regular past time of many women's group from all eras. I think there is just something about us women having the chance to really get to know each other in an informal setting.
I saw an ad that said "Ladies who lunch, rarely need therapy!"
I believe that to be true. I really enjoy going out to lunch with these women. I have gone from the first time I heard about it, which was almost right when I first joined.
If you are interested in attending ANY of them, contact Paula Schafer 515-279-8024 or jopol@q.com to RSVP. Sometimes, potential attendees don't have to notify her but most often she needs to know the count for reservations.
One last thing, you don't have to be a member to go to lunch bunch, however, you will WANT to join once you have gone I am sure, because these ladies are all FABULOUS!!
ENJOY!
~xoxo~ (TrishaTrixie)
BeFabulous
http://about.me/trishatrixie